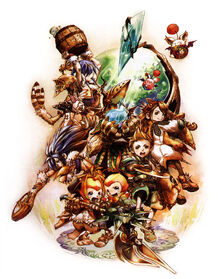 The Tipa Caravan are the group of protagonists found in Final Fantasy Crystal Chronicles. Like the other Crystal Caravanners, their quest is to collect Myrrh from Myrrh Trees to renew the power of the crystal in their village of Tipa. Along the way they discover more about the mysterious Miasma that plagues the land and of its origins.
Members
The members in the Tipa Caravan are determined by the player. They create a character and select from which one of the four tribes they come from:
Family Trades
When first creating a character, players can choose the character's family profession.
There are a total of eight homes in Tipa, each one for a different trade:
Gallery
Ad blocker interference detected!
Wikia is a free-to-use site that makes money from advertising. We have a modified experience for viewers using ad blockers

Wikia is not accessible if you've made further modifications. Remove the custom ad blocker rule(s) and the page will load as expected.