Lake Cyela is a body of water located near the Villa in Final Fantasy Crystal Chronicles: Ring of Fates.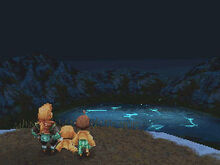 In heavy rain, the lake can quickly rise and flood Rebena Te Ra. For this reason, Rela Cyel was built to manage lake levels and do research on magic and crystals. It was destroyed by a bad storm and Lunites and now stands in ruins. The lake is clearly visible from the Villa, where Latov, Yuri, and Chelinka would watch the Ignes Fatui at night.
Ad blocker interference detected!
Wikia is a free-to-use site that makes money from advertising. We have a modified experience for viewers using ad blockers

Wikia is not accessible if you've made further modifications. Remove the custom ad blocker rule(s) and the page will load as expected.